The Timone Yachts Group brand continues its expansion towards Eastern Europe with two of the most internationally renowned brands, Arcadia Yachts and Pardo Yachts, for which it is the exclusive dealer for Eastern Europe. "Our market is growing," confirms President Luigi Gambelli, who presents the spearheads of the collection, Arcadia 80 and Pardo 43.
Blu Yachts, a brand of the Timone Yachts Group, has become the exclusive dealer in the Adriatic Sea for Arcadia Yachts and Pardo Yachts, two of the most successful brands in the nautical world. Poland, Slovenia and northern Croatia are the countries where Blu Yachts, based in Lignano Sabbiadoro in the Marina Punta Faro harbour, has already started its journey, first with Arcadia, then with Pardo, "but we are evaluating the possibility of opening offices in southern Croatia, Montenegro and Albania. Our mission is to further cross the frontiers of Eastern Europe from a commercial point of view," says Blu Yachts Chairman and CEO Luigi Gambelli, "a growing market for us that we'd like to cover by opening up more spaces in that direction. Blu Yachts is targeting owners of various nationalities, including Austrians, Slovenes, Germans, Croatians, Montenegrins, Albanians and Swiss based in the Adriatic, demonstrating the growth of a brand whose commercial dynamics could create desirable collaborations with 'colleagues' on the other side. "We're open to synergies with partners who want to build an innovative, forward-looking project in this part of the Adriatic," continues Gambelli, flanked by sales manager Giorgio Marchese.
Moreover, Blu Yachts' fleet includes an authentic excellence, the spearhead, a demo boat, Arcadia 80, "a new-concept vessel that stands out from the construction standards we're used to seeing, being very unusual and able to open up a new market niche interested in this product. The Arcadia 80 offers, in fact, large outdoor areas comparable to those of boats that are twice as big.
"It's an 80-footer," says Gambelli, "a 24-metre boat that can count on outdoor spaces equal to those of a 50-metre. This is undoubtedly a great added value, together with the absolutely original external and aesthetic design that allows those who buy this boat to boast a special 'piece' of absolute value. As far as the Pardo Yachts brand is concerned, a wide range of boats is offered, starting from 39 feet, suitable for both day cruisers and cruising.
Special attention is given to the Pardo 43, which represents the flagship of the fleet, having been the most desired boat of the entire range. "We have worked for many years in the north-eastern Adriatic area, and we have also worked in Germany, Austria, Poland and Hungary, countries which, from a maritime point of view, choose to be on this part of the Adriatic, making them easier to reach than other areas like France and Spain. Moreover, this side allows us to offer a more widespread service, which is important not only from a commercial point of view but also from a technical one, thanks to Timone Yachts, which has yards in Fano and can therefore carry out an all-round after-sales activity with winter maintenance and refitting, fully meeting our clients' needs".
Blu Yachts, a brand of the Timone Yachts Group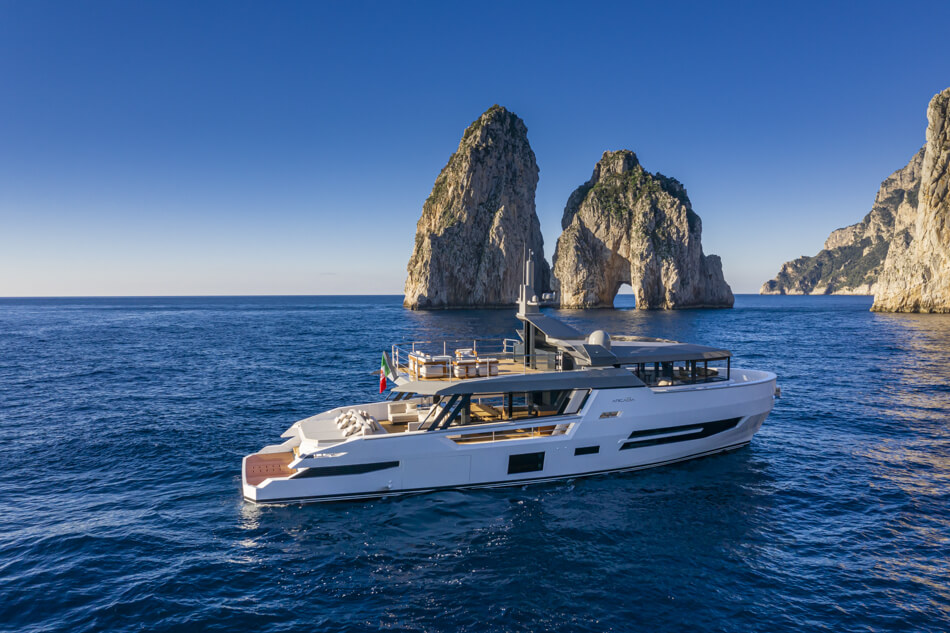 luxuryboutiquemagazine.com